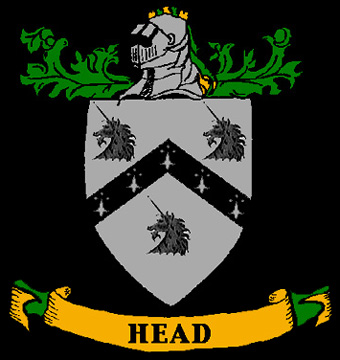 Meaning Of "head" Surname:
1. The modern English word "head" comes from the Old English "heafod" meaning "upper end", and the surname HEAD may have originally derived from a nickname for someone with some peculiarity of the head. Examples of this derivation are: Ralph HEUED (Pipe Rolls, Norfolk 1166) and Thomas HEDE (The Calverley Charters, Yorkshire 1246). However "heafod" also implied "a dweller by the hill or promontory" or alternatively "a dweller by the source of a stream". Early examples of this alternative derivation are: Thomas del HEVED (Rotuli Hundredorum, Nottinghamshire 1275) and Roger BYHEVED (Assize Rolls, Cheshire 1285).
Source: "The Oxford Dictionary of Surnames" by P.H. REANEY, "The Penguin Dictionary of Surnames" by Dr BASIL COTTLE and "Is Thy Name Wart?" by JAMES PENNETHORNE HUGHES.
2. Anciently written Hede or Hide. Probably from the place written Hede or Hide in Doomsday Book, now Hithe, in Kent, England, where the earliest traces of the Head family are found. From the Anglo-Saxon Hithe, a harbor, a shelter for boats.
Source: An Etymological Dictionary of Family and Christian Names With an Essay on their Derivation and Import; Arthur, William, M.A.; New York, NY: Sheldon, Blake, Bleeker & CO., 1857.
3. The Head surname is English (chiefly Kent): from Middle English heved 'head', applied as a nickname for someone with some peculiarity or disproportion of the head, or a topographic name for someone who lived on a hill or at the head of a stream or valley. This surname has long been established in Ireland.

Source: Dictionary of American Family Names, Oxford University Press, ISBN 0-19-508137-4
4. The English ancestry of the Head name stems from County Kent, England with numerous variants -- i.e. de Hede, Hide, Hithe, Hedd, Headd, & Head all of which have transitioned from the surname de Hede in 13th century England to the present spelling and particularly from Sir Richard Head, (1609 - 1689) in County Kent.
Source: 'Descent of Henry Head (1695-1770) in America'.
HEAD Coat of Arms: A black shield with three silver unicorns' heads erased.
HEAD Shield: Three black unicorns heads on a silver background.
HEAD Crest: A unicorn's head.
HEAD motto: "Study Quiet"
© Jerry England 2006
about jerry || home
Back Trail of a Western Family
British Trail of a Western Family
contact Jerry: jerry@cowboyup.com