David Jackson Bailey (1865)
David Jackson9 BAILEY (DAVID SOLOMON 8, ORANGE7, SMITH6, THOMAS5, OLIVER4, EPHRAIM3, JOHN2, JOHN (HADDAM FOUNDER)1) was born in Moravia, Appanoose Co., IA November 19, 1865. David died May 12, 1949 in Lewiston, Nez Perce Co., ID. He died at age 83 from pneumonia which was the end result of injuries suffered from breaking a horse. He married PIERCE, Lillian Amanda in Liberty Township, Valley Co., NE, October 27, 1884.

David Jackson BAILEY and Lillian Amanda (PIERCE) BAILEY about 1947

David Bailey's 1947 family reunion
Lillian PIERCE was born in Brideshead, Philadelphia Co., PA August 17, 1867. She was the daughter of PIERCE, Marcus Morton and HALLOWELL, Amanda Merrio. Lillian died April 30, 1957 in Chehalis, Lewis Co., WA, at 89 years of age.
BAILEY, David Jackson and PIERCE, Lillian Amanda had the following children:
i. Frank Jackson10 BAILEY was born April 29, 1886 in Liberty Township, Valley Co., NE.
ii. Marcus Leroy "Clyde" BAILEY was born March 23, 1888 in Liberty Township, Valley Co., NE.
iii. David Leonard BAILEY was born January 15, 1890 in Liberty Township, Valley Co., NE.
iv. Meda Elvira BAILEY was born February 6, 1892 in Liberty Township, Valley Co., NE. Meda died 4 JUL 1967 at 75 years of age. She married SLOCUM, Herbert Melville in Kendrick, Idaho, October 10, 1909. Herbert was born in Gifford, Idaho July 6, 1886.
v. George Frederick BAILEY was born February 18, 1894 in Liberty Township, Valley Co., NE.
vi. Clara Lillian BAILEY was born March 22, 1900 in Liberty Township, Valley Co., NE. She married HILSETH, John Albert in Moscow, Idaho, July 5, 1923. John was born in Jamestown, Idaho November 21, 1897.
vii. Curtis Pierce BAILEY was born January 1, 1904 in Nez Perce Co., ID.
*
(front row L - R) Curtis Bailey, David Jackson Bailey, Lillian Amanda (Pierce) Bailey, and Clara Bailey (back row L - R) Frank Bailey, Marcus Bailey, Meda Bailey, David Bailey and George Frederick Bailey. Photo ca 1905.
Notes:
· David and Lillian migrated West from Valley County, Nebraska and settled on Bear ridge above Kendrick, Idaho about 1903. They lived there until about 1930 when they moved to Lewiston, ID
· From a LEWISTON ORCHARDS NEWSPAPER ARTICLE about 1946:
"Molasses Produced From Orchards Grown Sugar Cane"
AN ENTERPRISE in Lewiston Orchards meriting mention because of its pioneer character, ingenious construction, unusual production, and the personal history of the owners is the "one-woman-and-one-man" cane molasses factory operated by Mr. and Mrs. Jackson Bailey, whose combined ages total 156 years and who are one of the few couples in this section to have celebrated their 60th wedding anniversary.
Making molasses requires experience, foresight, energy and patience. The Baileys acquired these qualifications when they were a young couple residing on a farm on a bleak Nebraska prairie in the 1880s existing, for the most part, on what they were able to produce in a battle with the elements that in almost every alternate year dried up the corn, discouraged their efforts, and dashed their hopes. Even in the drought years, cane could be produced and molasses made to provide a sweet for the six children of the Bailey family residing in a three room sod house, so the parents became proficient in the art of reducing cane cider to molasses syrup.
It was around the turn of the century that the Bailey's gave up the fight with the wind and summer sun that destroyed their crops and decimated their cattle. They migrated to the West and settled on Bear ridge above Kendrick, Idaho where their seventh child was born and where they made their home until they moved to Lewiston Orchards 16 years ago.
When both Mr. and Mrs. Bailey were approaching the allotted three score and 10 years their children importuned them to retire from the farm. The habits of a lifetime are difficult to cast aside and while they acceded to the wishes of their progeny, they made no promises about refraining from continuing the activities they had found conducive to their good health and well being.
"Dynamite" Furnishes Power
On the five-acre tract to which they moved, they carry on with the energy and enthusiasm of young people. They not only raise their own fruit and vegetables, but sell a considerable quantity. They keep a horse, a cow, a pig, some chickens and a few hives of bees. Busy from morning until night, the Baileys sandwich in their operations at the molasses mill with other activities.
In the spring they plant cane on one acre of their tract and a passersby during the summer might mistake it for corn overlooking the fact that the tassel is missing. In the fall Mr. Bailey strips the cane while it is standing in the field, tops it to get the seed for the next planting, hauls It and piles the stalks near the molasses mill to await processing.
Mounted on a concrete pier it a convenient height is the cane press which has been In continuous use for more than 25 years. Above the press is rigged a home made power plant consisting of a long pole extending 10 feet on one side and four feet on the other. To the long end of the pole he hitches a fat, wise, old and trusty horse by the forceful name of "Dynamite" and on the other end places a bucket of rocks for a balance.
When the processing begins "Dynamite" reluctantly gets into clock-wise motion, the press begins to turn, Mr. Bailey feeds the stalks through and Mrs. Bailey on the opposite side pushes the squeezed stalks aside when they are later gathered up to be used for feed for the cow and to keep "Dynamite" in dynamo order. She Also watches to make certain the cane cider pours into the waiting barrel. After the barrel is filled with the liquid, operations are halted and the cooking process begins.
A fire is lighted in the outdoor cooking furnace under the long cooking vat and seven gallons of the cane liquid is poured into the vat and started cooking for three hours. Mr. Bailey must keep constant watch at the vat, stirring, skimming, and testing the bubbling contents.
"How do you know when it has cooked long enough?" an onlooker asked. "The same way my wife knows when jelly has jelled, " he replied. "It takes experience during which a lot of molasses is over cooked before one knows the right consistency of the syrup."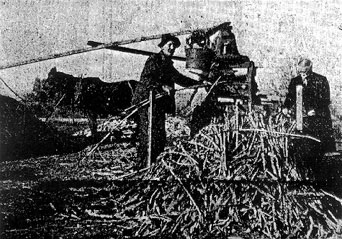 David Jackson Bailey and Lillian Amanda (Pierce) Bailey with Dynamite about 1945.
Although both are approaching 80 years, Mr. and Mrs. Bailey are hale and hearty and ascribe their good health to hard work and temperate habits. "I could write a book about our pioneering experiences," says Mrs. Bailey. "We endured many hardships but we have a peaceful existence here in Lewiston Orchards and wonder why more people our age don't live on acreages where they can enjoy the pleasure of producing their own crops and the good health that continuous hard work brings about."
Mr. and Mrs. Jackson Bailey, with the aid of a trusty horse "Dynamite", operate a crude factory at their home in Lewiston Orchards where home grown cane is run through a press and the juice reduced in a nearby outdoor cooking vat to molasses. Although Mr. Bailey is 79 and Mrs. Bailey, 77, both are brisk and active and care for their five acre tract where they are more than self sustaining from the fruit and produce they grow. They are pioneers who emigrated from Nebraska to Idaho in 1901. They have seven children, 25 grandchildren, and 13 great-grandchildren and recently celebrated their diamond wedding anniversary.
· From IGI: David Jackson BAILEY Birth: 19 Nov 1865 Appanoose, Iowa Father: David Solomon BAILEY Mother: Sophia BOYD Batch number: 7535766
· From IGI: David Jackson BAILEY Spouse: Lillian Amanda PIERCE Marriage: 28 Oct 1884 Liberty Twp, Valley, Nebraska Batch number: 8028704
· From : "Nebraska State Gazetteer, Business Directory and Farmers List for 1890-91" J.M. Wolfe & Co., Publishers, 1890.
page 288 Manderson, a postoffice in the western part of Valley county, 11 miles from Ord, the county seat. It has a population of about 30. Rhoades Henry F, postmaster. Truitt Geo B, justice.
Jackson Bailey, farmer, Manderson [Liberty Twp.].
· From: Idaho Death Index, 1911-51
NAME OF DECEASED: BAILEY, DAVID JACKSON
YEAR: 1949
CERTIFICATE NUMBER: 001787
COUNTY OF DEATH: Nez Perce
CITY: LEWISTON
DATE OF DEATH: 05/12/1949
DATE OF BIRTH: 11/19/1865
*
Township map of Valley County, NE
· From Census Records:
1920 US Census Index: Kendrick, Latah Co., ID - p 9A
1930 US Census Index: East Orchards, Nez Perce Co., ID
· From : Lewiston, Idaho 1941 City Directory: BAILEY, Jackson (Lillian) orchardist, Burrell Ave. between 10th and 11th Streets.
· From: Normal Hill Cemetery
Jackson Bailey
Lewiston, Nez Perce County, Idaho
1122 7th Street, Lewiston, Idaho
(208) 746-6857, Established 1888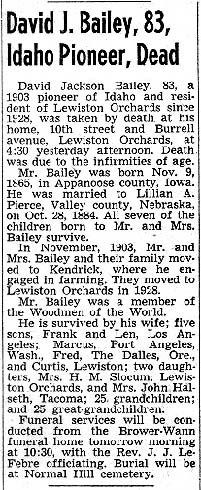 obituary for David Jackson Bailey
Lillian Pierce's Family History:
Lillian Amanda PIERCE, wife of David Jackson BAILEY, was born 17 AUG 1867 in Brideshead, Philadelphia, PA. She died 30 APR 1957 in Chehalis, Lewis, WA at the home of her daughter.
Generation 2 (parents) Marcus Morton PIERCE was born 19 SEP 1842 in Woonsocket, Providence, RI. He died 6 DEC 1882 Liberty Twp., Valley, NE. Amanda M HALLOWELL was born 18 APR 1842 in Philadelphia, Philadelphia, PA. She died 13 SEP 1873 in Philadelphia, Philadelphia, PA.
Generation 3 (grandparents) James L. PIERCE was born 20 JUL 1823. He married Alvira Brayman about 1841. Alvira BRAYMAN was born about 1823 possibly in RI.
Rifford Randolph HALLOWELL was born 1816 in Philadelphia, Philadelphia, PA. He died 1864. Amanda MEIRIO [possibly Merrio] was born about 1821 in Philadelphia, Philadelphia, PA.
Generation 4 (great grandparents) Joseph HALLOWELL was born 1785; New London Twp., Chestor, PA. He died 1872 in Philadelphia, Philadelphia, PA. He married Martha Evans about 1807 in Chestor, PA. Martha EVANS was born 1785. She died about1826.
Generation 5 (great-great grandparents) Joshua HALLOWELL was born 15 APR 1751 in Abington, Montgomery Co., PA. He died 15 AUG 1835 in Philadelphia, Philadelphia, PA. Hannah TRUMP was born about 1753.
Generation 6 (3-greats grandparents) William HALLOWELL was born 1 JUN 1707 in Abington, Montgomery Co., PA. He died 23 AUG 1794 in Abington, Montgomery Co., PA. Margrett TYSON was born 7 DEC 1708 in Abington, Montgomery, PA. She died 4 APR 1752 in Abington, Montgomery, PA.
Michael TRUMP was born about 1715. He married Grave Nanney at Gwynedd Monthly Meeting 29 JUL 1741. Grace NANNEY was born 23 MAY 1716 probably in PA.
Generation 7 (4-greats grandparents) Thomas HALLOWELL was born 6 JAN 1679 in Hucknell, Nottingham, England. He died 14 DEC 1734 in Abington, Montgomery, PA. Rosamond TILL was born 18 FEB 1678 in Green Whitgreave, parish of St. Mary, Staffordshire, England. She died 13 JUN 1745 in Abington, Montgomery, PA.
Matthias TYSON was born 31 AUG 1686 in Philadelphia, Philadelphia, PA. He died APR 1727 in Abington, Montgomery, PA. Mary POTTS was born about 1688 in England or PA.
Rhys or Rees NANNEY was born about 1681 in Wales. He died 1747 in PA. Elizabeth COULSON was born 27 JUL 1690 probably in PA.
Generation 8 (5-greats grandparents) John2 HALLOWELL was born about 1648 in Hucknell, Nottingham, England. He died after 1706 in Abington, Montgomery, PA. Mary2 HOLLAND was born about 1650 in Millnehey, Derbeyshire, England.
John6 TILL was born about 1652 in Green Whitgreave, parish of St. Mary, Staffordshire, England. Mary JACKSON was born about 1654 in Germany.
Reynier TYSON was born about 1659 in Crefeld, Germany. He died 27 SEP 1745 in Abington, Montgomery, PA. Margaret STREYPERS was born about 1662 in Holland.
John4 POTTS was born about 1658 in Hairdlass, Wales. Alice CROASDALE was born about 1660 probably in Wales.
William COULSON was born about 1661 in Yorkshire, England.

© Jerry England 1989 - 2003

paintings || decorative art || about jerry || cowboy poetry || home
Back Trail of a Western Family - Bailey Family Genealogy

British Trail of a Western Family - Head Family Genealogy