Sturdy Family
GENERATION B
Richard STURDY b. about 1736 possibly in Ballyconnell in Caven County, Ireland; m. Margarate Unknown; d. about 1832
Notes: From "The Goderich Township Families book, pub. 1985":
One paragraph says Hugh Sturdy, from Ballyconnell, Caven County, was one of 7 children of John Sturdy. Another paragraph says he is a descendant of Richard and Sarah (Findley) Sturdy. Until I can find more information - I will assume he is the son of John and grandson of Richard.
GENERATION A
John STURDY b. 1775 probably in Ballyconnell, County Cavan, Ireland

GENERATION 1
Hugh STURDY b. 1800 in Ballyconnell, County Cavan, Ireland; m. before abt 1827 Elizabeth (SHAW) Sturdy b. abt 1811 in Ireland.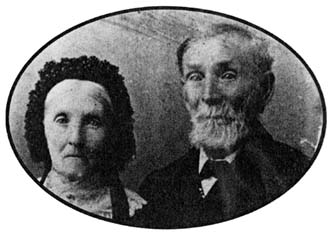 Hugh Sturdy and Elizabeth(Shaw) Sturdy ca 1870
From "The Goderich Township Families book, pub. 1985"

HUGH STURDY: (l800 - l884)
Hugh Sturdy emigrated from IRELAND ca 1830 and settled on L30, 31/CMt Goderich Twp. in 1832, receiving his Canada Co deed at a later date. According to family record, he came from Ballyconnell, Co Caven and was one of 7 children of John Sturdy. His brother, Richard (1810), emigrated to the USA in 1831.

Hugh married Elizabeth SHAW in IRELAND and they emigrated with at least two of their nine children: John, Oswald, Robert, Anne, Ellen, Margaret, Tom, Sam and Hugh.

In the 1840s Hugh built a rubble stone house, near the Huron highway, using the Irish tradition of clearing the fields, utilizing the stones, and then plastering over the rough exterior surface. The house had no fireplaces in it, so was built to make use of stove heating. It was a 28' x20' building and has been preserved by the present owners. "The Sturdy house" is considered a landmark in Goderich Twp. today, and is one of the few really early homes still standing.

Hugh farmed the 160 acres until he and Elizabeth retired and their son, Sam, took over the family farm.

The children of Hugh and Elizabeth Sturdy are:

i. JOHN STURDY (1828-?) m. Jane McBRIEN in 1855.
ii. OSWALD STURDY (?-1872) married Anne PROCTOR.
iii. ROBERT STURDY (1831-?) married Prudence KERNIGHAN.
iv. ANNIE STURDY (1833-1907) married John KERNIGHAN.
+v. ELLEN STURDY (?-1906) married William PROCTOR in 1859.
vi. MARGARET STURDY married Wm E. JOHNSON in 1873.
vii. THOMAS STURDY married Jane LASHAM.
viii. SAMUEL STURDY (1843-1927) married E. Janet FERRIS (1859-1901) in 1880. Sam inherited the farm on Lot 30, 31 /CMt from Hugh and farmed there until his death. He was a Twp Councillor (1888-1894) and Reeve (1909-11).
ix. HUGH STURDY (1849-1901) remained a bachelor.

Notes:

Index to the 1871 Census of Ontario:

STURDY , HUGH; Male; Age: 70; Birthplace: IRELAND; Religion: Church of England, Anglican; Occupation: Farmer; District: HURON; Sub-district: Goderich Township

His name also appears on the 1842 Huron County Assessment rolls for Goderich Twp.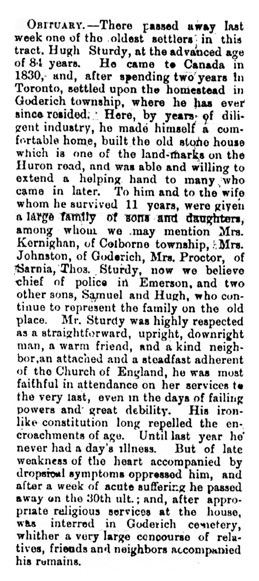 Hugh Sturdy Obit 1884

GENERATION 2
Ellen STURDY b. abt 1841 in Goderich, Huron Co., Ontario, Canada; m. William PROCTOR 15 SEP 1859; died 1906.

The children of William Proctor and Ellen Sturdy are:

i. Adaline Proctor (1862)
ii. Clara Ann Proctor (1863)
iii. Hugh Henry Proctor (1865)
iv. Elizabeth Ellen Proctor (1869)
v. Simon Clarence Proctor
vi. Margaret Proctor
vii. William Proctor
viii. Annie Caroline Proctor (twin,1874)
ix. Oswald Sturdy Proctor (twin,1874)
x. Edward Anderson Proctor (1877)

Generation 3

Adaline PROCTOR b. 22 JUN 1862 in Goderich, Huron Co., Ontario, Canada; m. Allan MC NEIL 31 OCT 1887 in Sarnia, Ontario, Canada.
Sturdy's Cow - a poem from County Cavan, Ireland

© Jerry England 1989 - 2003
paintings || decorative art || about jerry || cowboy poetry || home
Back Trail of a Western Family
British Trail of a Western Family